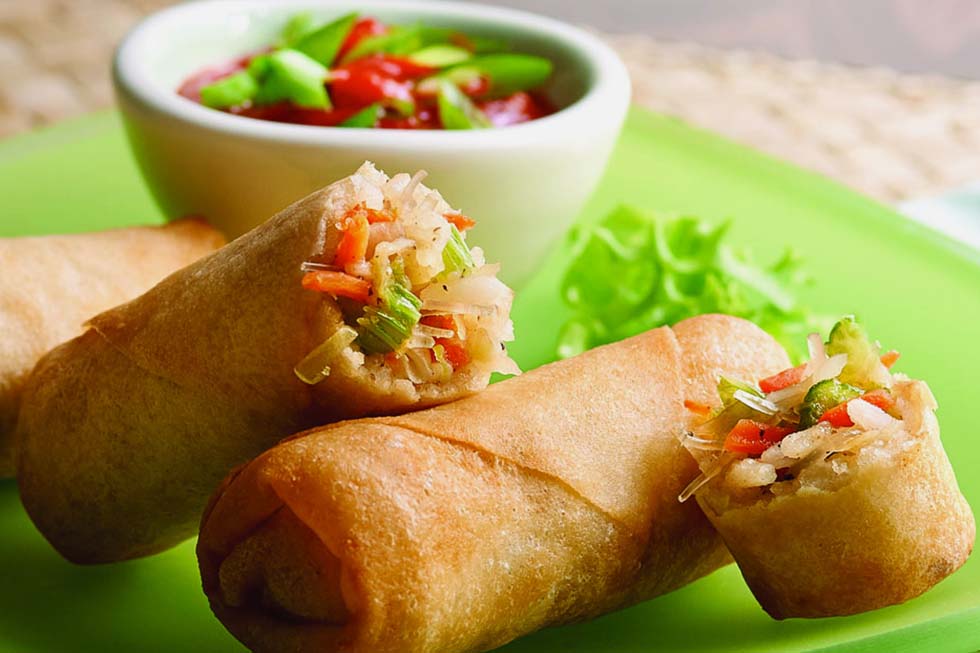 07 Nov

Consumers Love Asian Appetizers

A recent Technomic report confirms what most operators probably already know – that consumers LOVE globally influenced foods. In fact, most have eaten them within the past month!*

Here are a few fun facts about global cuisines:
They're most explored during lunch (34%) or dinner (59%).*
Senses guide consumption of unfamiliar foods, especially a pleasing aroma (80%) and visual appeal (77%).*
Many operators (71%) consider global foods "premium," making it easier to command a higher price for them.*
Asian cuisine continues to dominate global food consumption – as much as 38% of food eaten around the world is Asian, including Chinese, Japanese, and Korean.* That level of popularity, combined with the versatility of many Asian foods, means great opportunities for operators. Another perk for restaurants is that most people, 70%, don't want to make Chinese food at home – they prefer to go out.*
As a major component of Asian foods, rice is one of the top dishes on U.S. global cuisine menus, second only to salads.* Specifically, fried rice entrées are on a whopping 92.8% of menus.**
One of the most versatile foods in the world, rice can be used as the foundation for dozens of Asian entrées. Fried rice is typically used in Chinese meals – simply top with chicken, beef, pork, shrimp, vegetables, or a combination of all of the above. Fried rice or white rice lightly seasoned with cilantro and lime can also add global flair to menus in other ways such as Korean, Thai, Japanese, Cajun, Hawaiian, Tex-Mex, Latin, American, Caribbean, and more.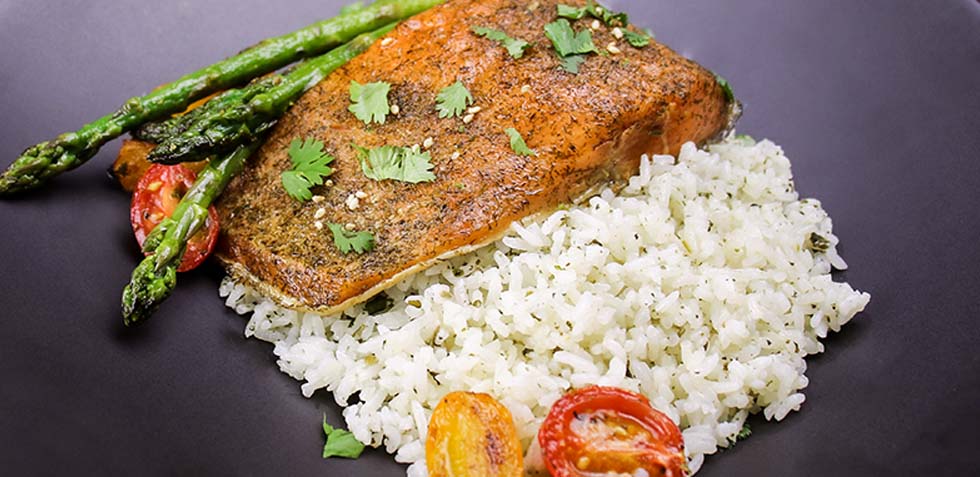 Other Asian foods that make a major impact on restaurant menus include wontons, potstickers, spring rolls, egg rolls, and bao buns.
Wontons, on 56.8% of Asian appetizer menus,** are one of the top global foods consumers like to enjoy away from home.* They can be filled with cream cheese, vegetables such as spinach and artichokes, and proteins like pork, shrimp, or chicken. Easy to prep, wontons can be served as an appetizer with a savory dipping sauce, or they can be used as a salad topping or a tasty addition to soup.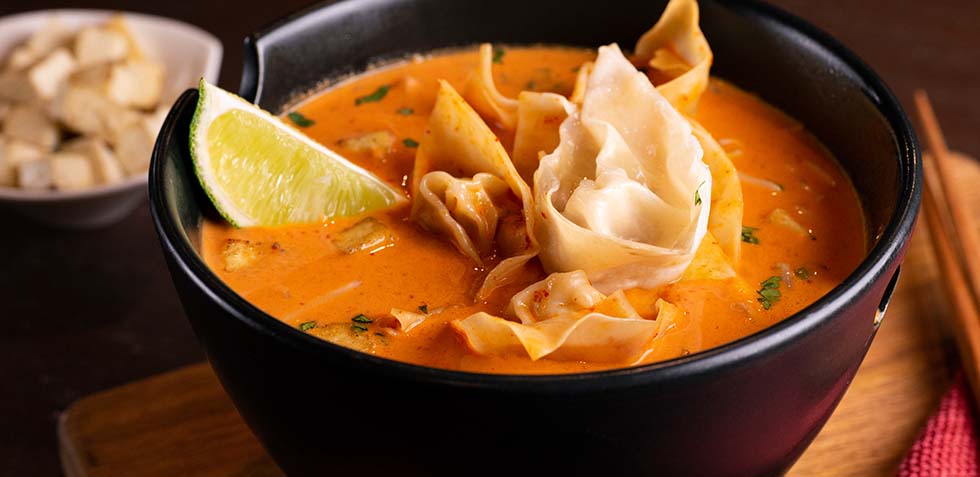 Wonton wrappers give operators even more opportunity to make creative starters or small plates, like unique, eye-catching Wonton Poke Tacos. Just form wonton wrappers into taco shell shapes and fry, then fill with tuna poke, cucumber slaw, and spicy mayo, and garnish with black sesame seeds.
Potstickers, crescent-shaped dumplings often pan-fried to give them a crispy exterior that are on 26.4% of menus,** can be filled with vegetables or a combination of veggies and either chicken or pork. Gourmet potstickers often feature a bit of soy sauce and/or rice wine as well, giving them an upscale flavor that customers adore.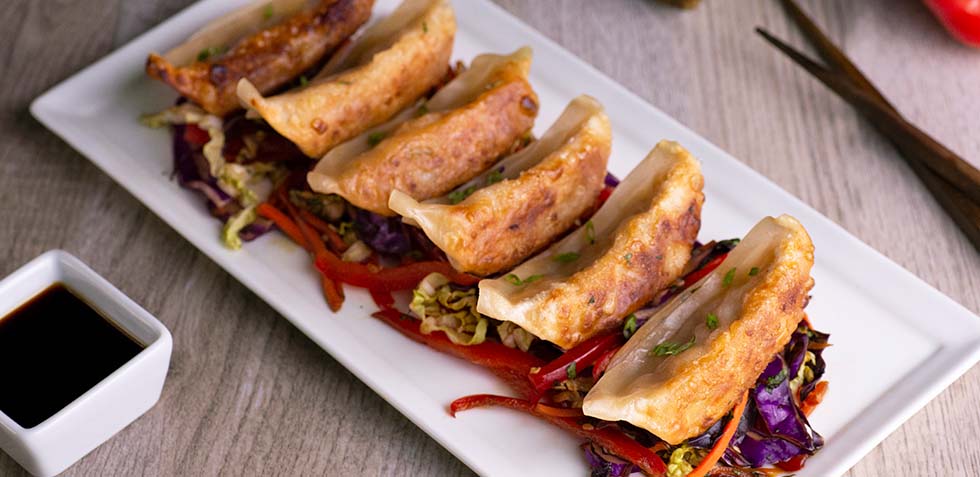 Much like wontons and potstickers, egg rolls and spring rolls are simple but full of flavor, easy to prepare, and make great appetizers, side dishes, and entrées. Egg rolls, and their lighter, crispier cousins, spring rolls, are on 45.2% and 48.7% of menus, respectively.**
Butterfly bao buns give operators even more leeway for creativity. A simple appetizer or small plate idea is to steam the bao buns and fill them with pan-seared pork belly, red cabbage, shredded carrots, and sliced cucumber.
Here are a few additional ideas for savory bao bun recipes:
Asian chicken bao tacos: Fill bao buns with succulent grilled chicken, crunchy chili Asian slaw, pepper rings, and spicy glaze, and garnish with sesame seeds.
Pretzel butterfly bao bun: Submerge bao buns in boiling water with baking soda, place on a baking sheet, sprinkle with pretzel salt, and bake until buns turn dark brown.
Airy American BLT bao tacos: Fry bao buns to a crispy brown and fill with bacon, romaine lettuce, sliced tomatoes, and peppered aioli.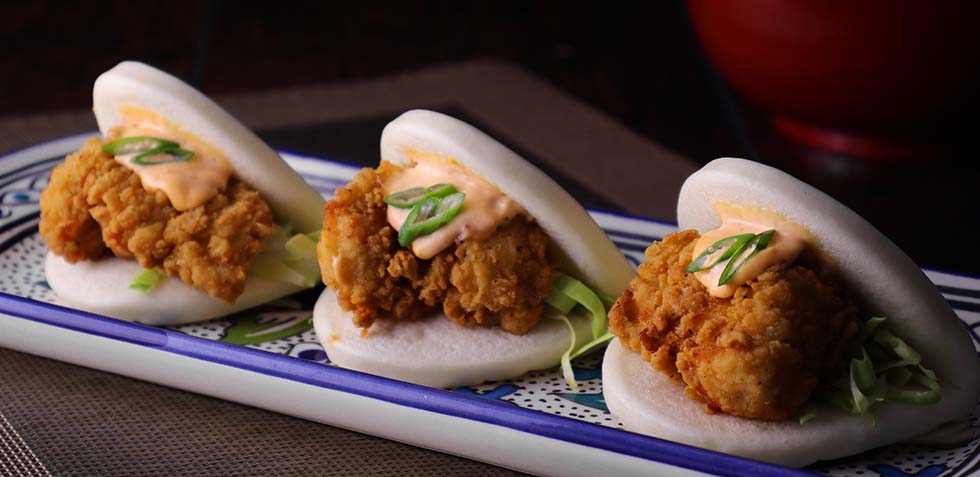 The simplicity of butterfly bao buns make them easy to use even in sweet desserts. Here are a few examples:
Banana cream bao: Vanilla custard and fresh bananas fill fried butterfly bao buns, which are then topped with a mound of freshly made whipped cream.
Parfait butterfly bao sliders: Butterfly buns are fried golden, filled with vanilla frozen yogurt and topped with macerated fresh strawberries and crunchy granola.
Fruit and cookie butter bao: Butterfly bao buns are fried until golden, filled with fresh strawberries and kiwi, and drizzled with warm cookie butter.
As a leader in culinary innovation, Ajinomoto Foods North America can help you stay informed. Check out our easy-to-serve, trend-forward products and follow our blog at AjinomotoFoodservice.com.
Keywords:
Asian menu ideas, top Asian menu items, trending Asian menus, potstickers, Cha Su Bao, spring rolls, wonton, bao buns, fried rice
Resources:
*Technomic October Global Flavors Report 2021
**Datassential MenuTrends