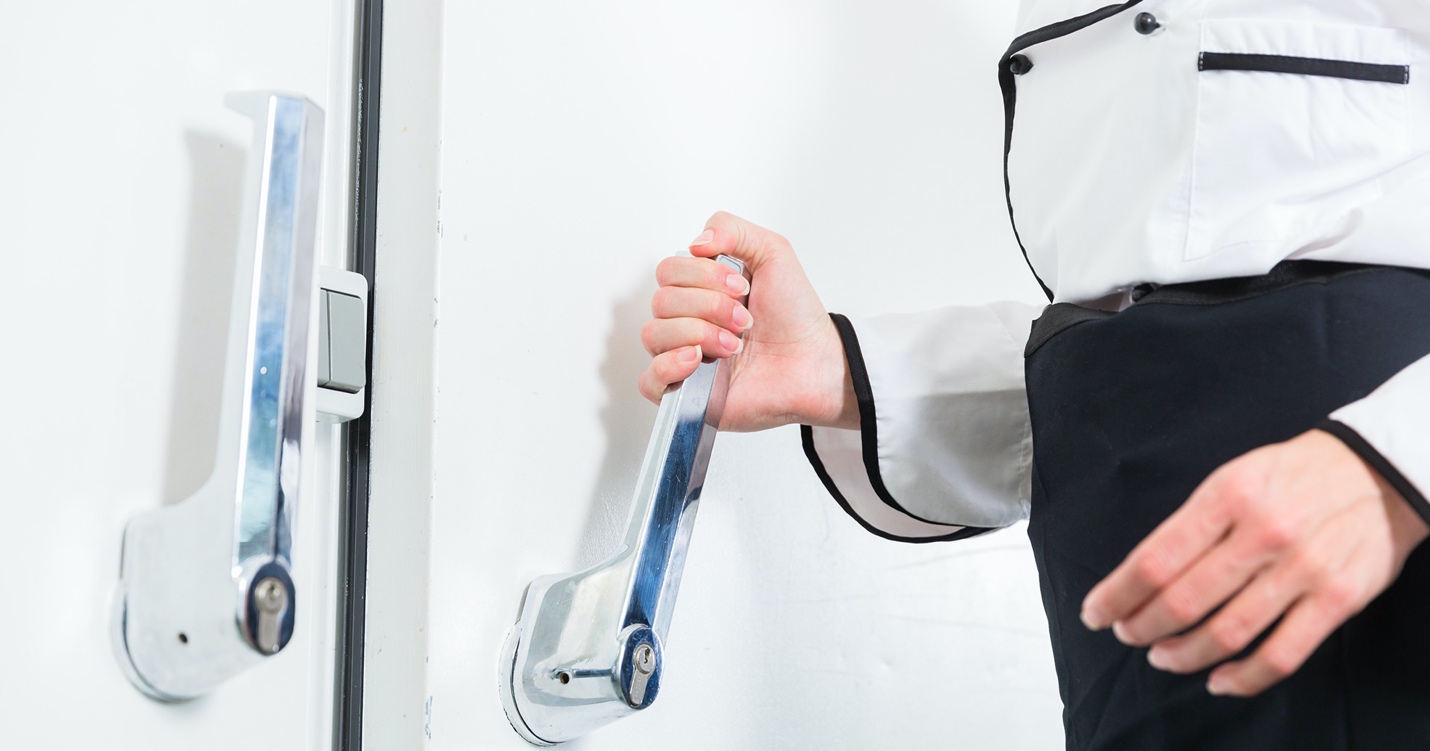 07 Feb

Frozen, prepared foods offer operators more menu versatility and creativity

In an era of smaller menus and fewer kitchen employees, operators can cut back on staff onboarding and training as well as food spending by using frozen items that offer versatility across different menus, dayparts, seasons, and cuisines.

Foods that have a longer shelf life have become more appealing to operators and can help them manage unnecessary food waste during this time*. Many menu mainstays can be replaced with frozen foods to save money and labor without sacrificing quality or flavor.

Frozen, ready-to-eat foods also provide increased food safety by minimizing the growth of harmful bacteria and lessening the risk of cross-contamination. That's because they've already been cooked to a minimum temperature to ensure safety as long as they are refrigerated or frozen afterward and stored properly until use. RTE products can often be prepared directly from frozen or after thawing in the refrigerator.
Comfort foods
According to a recent Grain Foods Foundation survey, 36% of U.S. consumers named pasta as a food that is comforting during a stressful time. Frozen pasta allows operators to use this comfort food as a flexible menu item that can be prepared quickly and with few extra ingredients.
Macaroni and cheese, one of the most popular comfort foods, is on 30.8% of menus*. Serving mac and cheese in bite-size form is a great way to offer this craveable snack, appetizer, or side dish on any menu, during any daypart.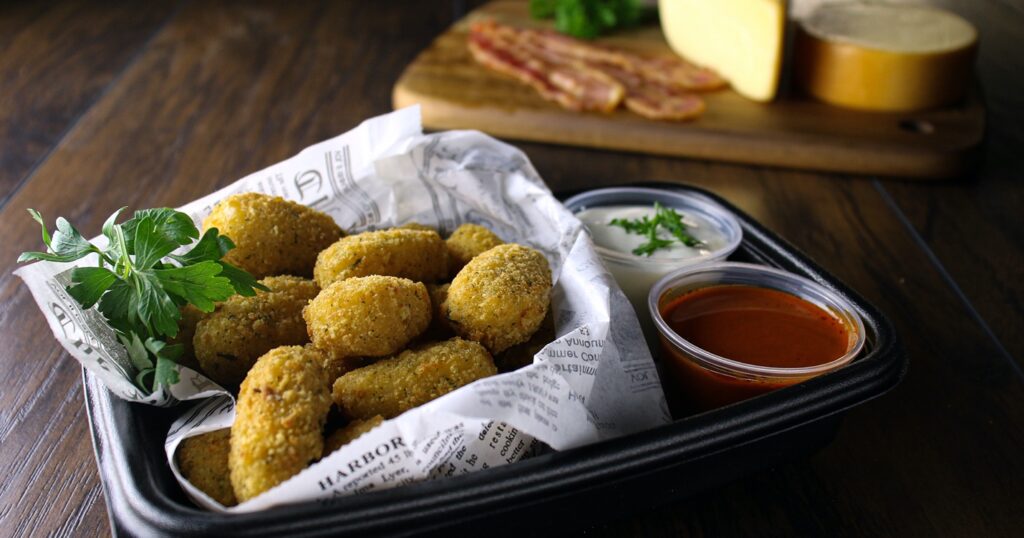 Mac and Cheese Bites feature tender elbow macaroni mixed with American cheese and coated in a savory batter. Upscale Gouda and Bacon Mac and Cheese Bites add gourmet flair, filled with smoked gouda, yellow and white cheddar, parmesan, romano, and fontina cheeses.
These flavorful bites can be served a variety of ways:
As an appetizer with a simple ranch dipping sauce

Atop a salad of shaved brussels sprouts, red onion, and almonds

In place of sliced cheese on sliders with onion jam
Filled pasta is another popular comfort food among consumers, seeing an increase of 21.6% in menu mentions over the past four years*. Manicotti is a great example of a popular – and versatile – stuffed pasta.
Manicotti is a flexible entrée option that can be topped with a variety of different sauces, from traditional marinara, to creamy vodka sauce, to smoky romesco sauce. But operators can also think outside the box and serve manicotti in lots of nontraditional ways:
Topped with braised chicken, sliced mushrooms, carrots, and bacon in a red wine reduction, garnished with thyme

Topped with shredded chicken, cheddar, and mole sauce, baked and garnished with cotija, pico de gallo, and cilantro

Baked and chilled, then topped with a melon salad and garnished with fresh mint and macerated berries
Chili (on 37.7% of menus*) is another hugely popular comfort food that offers incredible menu versatility and profitability. Traditional chili with beef and beans is fully cooked and ready to eat – just heat it up, serve it in a bowl, and top with sour cream and chives. Or, it can be upscaled with just a few different ingredients:
Top chili with cornbread batter, bake, and garnish with sour cream, jalapeños, and red onion

Wrap hot dogs in crescent roll dough, and top with chili, cheddar cheese, and scallions

Combine two comfort foods into one by topping

Smoked Gouda Bacon Mac and Cheese Bites

with home-style chili, scallions, and sour cream
Mini-Mexican appetizers
Frozen, RTE Mini-Mexican appetizers offer heat-and-serve convenience with menu versatility and the global flavors consumers love in sizes that make them ideal for sharing. Mini taquitos are a great example – crispy corn tortillas filled with seasoned shredded beef or chicken and rolled into an easy-to-serve snack or appetizer.
Mini taquitos (on 23.7% of Latin appetizer menus*) can be served individually as an appetizer with a fun dipping sauce, or as part of a sampler platter that can be shared with the table. But their versatility doesn't end there. They can also be served:
As a late-night snack or appetizer in a shot glass with zesty guacamole

Atop a salad made of avocado, red onion, corn, and lime juice

Layered with cheese sauce, chili, guacamole, and pico de gallo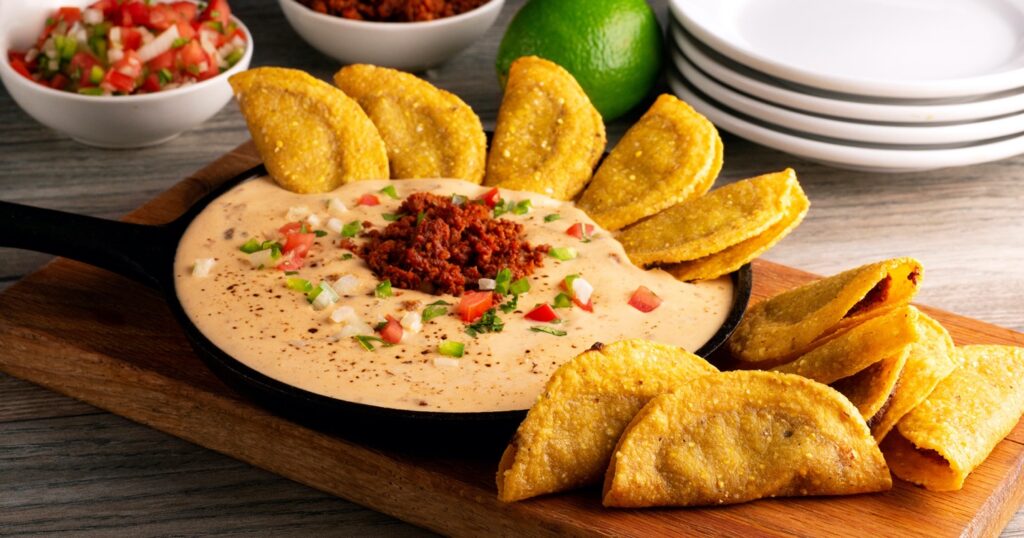 Mini tacos (on 19.9% of Latin appetizer menus*) are great additions to a sampler platter, but they can also be served:
As an entrée with slaw made from shredded jicama, scallions, cabbage, mango, cilantro, and lime juice

Atop spicy chicken tortilla soup or black bean soup

As an appetizer with white queso sauce made with crumbled chorizo, green chiles, pico de gallo, and cilantro
Similarly, burritos (on 18.1% of menus*) in mini sizes make a delightful appetizer on their own, but other ideas include:
As an appetizer with creamy avocado salsa, cotija cheese, pico de gallo, and sour cream

As an appetizer over Spanish rice, topped with avocado and tangy corn relish
Classic American starters
Appetizers are meant to be easy to serve in a hurry, so using frozen items is a smart way to get good food on the table quickly, without giving up quality or flavor.
Mozzarella sticks have been popular in practically every type of restaurant operation for decades. Classic battered or breaded cheese sticks made from 100% mozzarella for a buttery, creamy texture are ideal as a stand-alone appetizer or as part of a satisfying sampler platter with a variety of dipping sauces. Fried cheese is featured on 17.5% of menus at restaurants serving appetizers*.
Additional ideas:
Add them to a sandwich, wrap, or burger

Serve them alongside a salad or soup

Dress them up by wrapping them with thinly sliced prosciutto and pairing with creamy parmesan artichoke dip
Curds are another popular way to serve cheese-based appetizers, and they're on 2.7% of menus, up 39.4% over the past four years*. Traditionally, cheese curds are made of simply delicious Wisconsin white cheddar with a flavorful batter coating. Additional flavors are now available, however, that give operations new, profitable flavors to add to their menus, like breaded ranch and Nashville hot.
Ideas for serving:
Add to tomato soup and sprinkle with shredded parmesan and fresh basil

Add to a charcuterie board with a variety of other fried cheese appetizers, sliced meats, olives, and pickled vegetables

Place atop chicken, burger, or barbecue sliders
Pickle chips (on 6.1% of menus, up 9.6% over the past four years*), either breaded or battered, give customers a pop of tangy flavor whether they order it as an appetizer with dip or as an upcharge addition to their entrée.
Ideas for serving:
Serve with a spicy sauce like sriracha, chipotle, jalapeño ranch, or spicy mustard

Add to burgers, wraps, tacos, pizzas, or flatbreads

Use instead of regular pickles on a Cuban or Nashville hot chicken sandwich
Asian flavors
The proliferation of Asian cuisine in the U.S. foodservice industry means that it's crucial for operations to be able to offer these flavors, even on smaller menus.
That level of popularity, combined with the versatility of many Asian foods, means great opportunities for restaurants. Another perk for operators is that most people, 70%, don't want to make Asian food at home – they prefer to go out.**
Korean BBQ (on 2.5% of U.S. menus, up 41.6% over the past four years*) is a popular global flavor that is growing on menus across the country. Korean-style BBQ beef mini tacos are a versatile option for appetizer or late-night menus, but they can also be dressed up with ingredients many kitchens already have on hand:
Drizzle with bulgogi sauce and garnish with crunchy fried garlic, scallions, and sesame seeds and serve with cilantro crema

Serve over a salad made of romaine lettuce, sweet corn, kimchi, sliced cucumbers, carrots, and purple cabbage, and drizzle with gochujang vinaigrette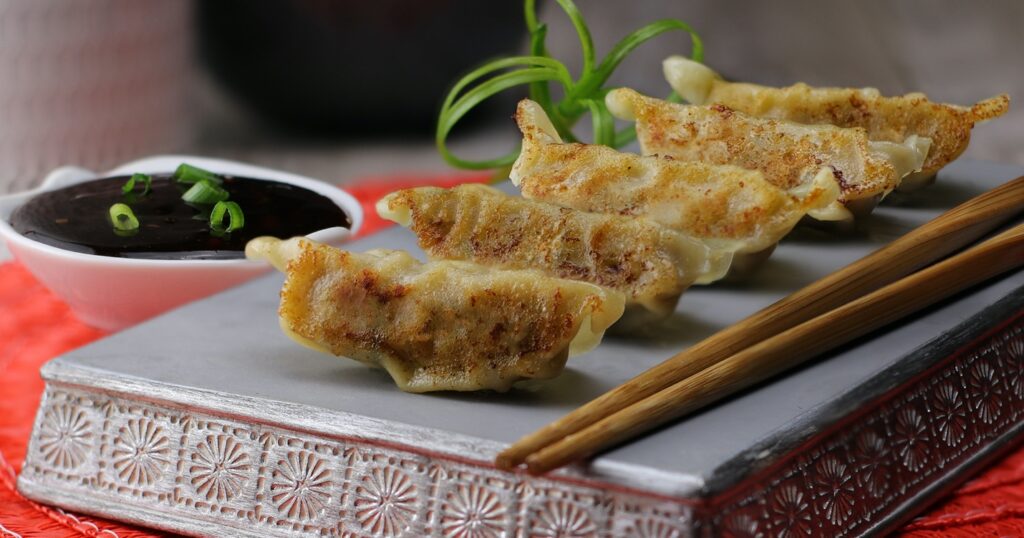 Potstickers, a classic Asian appetizer on 5.6% of menus*, offer variety in not only serving options – they can be served as appetizers, in soup, alongside salads, and more – but also variety in cooking options. Potstickers can be steamed, pan-fried, or deep-fried.
Some recipe ideas include:
For a twist on breakfast, fry potstickers and top them with poached eggs and sweet Thai chili hollandaise, then garnish with sesame seeds and green onion

For a lunch or dinner entrée, pan-sear potstickers and serve them atop ramen noodles with hearty tonkatsu broth, enoki mushrooms, bok choy, and a soft-boiled egg

For a light, but flavorful appetizer or lunch, serve pan-seared potstickers in a salad made with shredded cabbage, carrots, daikon radish, kimchi, gochujang, and sliced cucumber
Wontons, on 13.1% of appetizer menus*, are one of the top global foods in the U.S. They can be filled with cream cheese, vegetables such as spinach and artichokes, and proteins like pork, shrimp, or chicken. Easy to prep, wontons can be served as an appetizer with a savory dipping sauce, or they can be used as a salad topping or a tasty addition to soup.
Recipe ideas:
Add wontons to a light chicken broth with shredded carrots and red bell pepper and garnish with fried garlic and sliced scallions

Serve over bok choy, spinach, shredded carrots, red bell pepper, mandarin oranges, and sliced almonds with a spicy honey vinaigrette

Place atop a grilled beef patty with grilled pineapple, bok choy, and hoisin BBQ sauce on a toasted brioche bun
As a leader in culinary innovation, Ajinomoto Foods North America can help you stay informed. Check out our easy-to-serve, trend-forward products and follow our blog at AjinomotoFoodservice.com.
Keywords:
multiple menu applications, menu applications, menu application ideas, comfort food ideas, global flavors, Asian menu ideas, Mexican menu ideas, Latin menu ideas
Resources:
*Datassential, 2022
**Technomic, 2021